From the July-August 2022 issue of Gulf Agriculture Magazine
---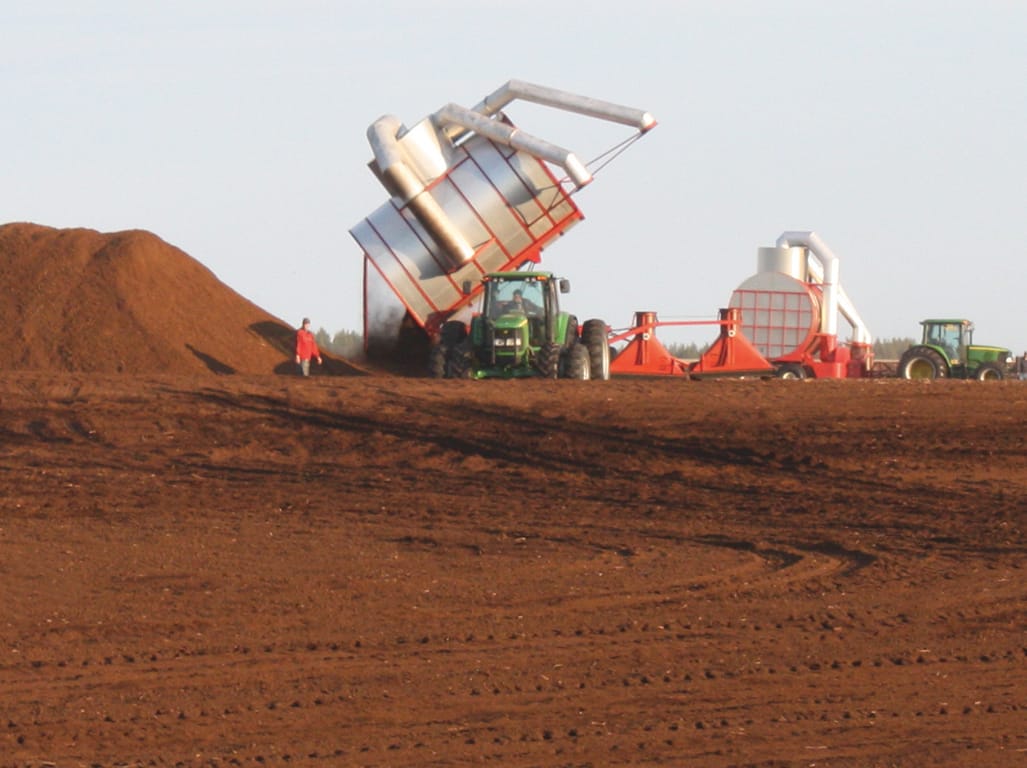 Foundation of success at Lambert Peat Moss
Each step of the peat harvesting process is important and impacts substrate quality.
For over 90 years, Lambert Peat Moss has offered a wide range of horticultural products ranging from different grades of Canadian sphagnum peat moss to an assortment of ready-to-use professional peat-based substrates. Our special way of screening and mixing our different grade of professional peat will allow you to work with a very specific media that will provide exactly what is needed depending on your personal specifications. Crops, containers or tray sizes, type of irrigation management, location, or time of year – all these details are useful in determining which product is right for you.
The physical characteristics of germination or growing substrate of any type are the basis of your success. With that in mind, the process for us at Lambert starts in the peat bog even before the harvest stage. Focusing on harvesting procedures and field preparation planning is paramount. The integrity of the peat fibers is best preserved when the peat bog is disturbed on a limited basis. Consulting the weather forecast and intuition is very important. No one can predict an unexpected thunderstorm, so it's wise to play it safe. We don't want to harrow the peat bog and then have rain because that will ruin the preparation, forcing us to redo it and break the fibers, creating fine particles that will later reduce the drainage and porosity.
When the harvest is complete, the quality of peat should be as good as possible. This is the time when the care we took earlier will reward you. We are fortunate to work on young peat bogs which allows us to harvest fibrous peat. Much fewer fine particles and dust than in older peat bogs because the peat gets finer the deeper you go. That's the reason why we take such care of these peat bogs. Durability and sustainability are crucial. These fibrous peat fibers will give you structure in the mix, allowing for porosity and air space, which is the main quality you want to obtain. Then, these harvested peat piles will be ready for the screening step and final usage.
Each grade of screened peat is dedicated to a specific end use, from Ellepot's line of very clean mixes to very coarse, high porosity ones, including extra-coarse nursery mix. Between the two, many different options are offered in the category of germination or for any production purposes. We also offer product for those who choose to grow organically by targeting and certifying some mixes with an OMRI certification as organic production is now a trend that will last.
It's also always preferable for you to share as much detail as possible to allow our sales representative to suggest the best options for each stage of your crops. Sometimes a small operation will prefer to work with a single product to keep it simple, but it is rare that one size fits all. Selecting the best mix available for each step will make your life easier by eliminating at least one possible source of adjustment. If further fine tuning is required, we specialize in custom blends with many options to make you totally comfortable with the finished product. Weather variation, fertilization and watering are possible sources of changes. If you can rely on the perfect fit of the mix and the consistency of it, you can concentrate on the rest of your production needs.
Additionally, Lambert Peat Moss has developed a large, efficient, and versatile distribution network ready to deliver the product to your door in an incomparable timeframe. The constant commitment to improve and optimize our customer service allows Lambert to adapt quickly to the requirements of our customers. The competence and dedication of our personnel ensure that it remains competitive, at the cutting edge of technology and at the forefront of the markets by offering products of incomparable quality.
Lambert… At the root of your success since 1928.
Back at the news